On May 20, Conner and I had a wonderful experience. One of those things we will forever remember and cherish. The Amgen Tour of California once again chose our city as a start stage, this was a second opportunity to view riders from our favorite sport. When Conner was young, he got very excited when Lance Armstrong won his seventh Tour De France. We watch the Tour every summer and follow many riders and teams. So you can imagine our excitement when we found out they were coming to our town. Last year, we had the opportunity to go and meet many of our favorite riders.
We started planning days before, it had been on our calendar for months. We knew how to meet the riders since we had gotten lucky the year before being in the right place at the right time. We knew if you stood by the sign in area you could meet most of them. The thing is, since we met them last year our obsession has grown! So we spent the week chattering back and forth in "cycling speak" only he and I can understand. Marty likes it okay, E wants nothing to do with it, so mainly it is buddy and I.
So on Wednesday, the day before we decided to go to the team buses and forego standing by the sign in stage. We knew this was a gamble, but one we were willing to make. We had several riders that we really wanted to meet. As we were talking, I asked Conner to pray with me about it. We got down on our knees in our living room and we prayed. I told Conner, even though it is silly, God still hears silly prayers.
On Thursday morning, we got up and headed downtown. We had Marty drop the two of us off at the convention center. I knew the buses were parked there since that is where they parked last time. We have a big hotel in the same area and I knew since it was the only major hotel, the lionshare of riders would be staying there. We walked around the team cars, watched mechanics working on the bikes and saw many of our favorite team buses. None of the riders were out since it was early and we decided to stand outside the hotel entrance. We figured that way as they walked out, they would walk right by us.
As we were standing there, two people told us to go in the lobby. Conner and I felt that was a bit stalkerish and a tad bit rude. But a waiter came out, he told us " It's public property, go in they are eating breakfast. Don't go in the dining room but wait outside and catch them." as he was saying this he was herding us in the doors. We felt very awkward, but immediately started seeing our favorite riders. We ended up meeting every single one of our favorite riders that day. We got autographs and some of them even posed with us for pictures.
One of the biggest shockers was meeting Mark Cavendish, the world's fastest sprinter. He is known for his temper and cocky attitude. He was so kind to Conner and I, he saw us and walked over to us, before he even went in to eat! He was laughing and smiling and truly so kind to us. Here is a picture of us together
What a nice guy!
Then we had the chance to meet Andy Schleck, he is my favorite rider out there right now and my pick to win the Tour De France this year.
Then Conner got to meet Fabian Cancellara, we love when the annoucer says his name. He is currently world time trial champion.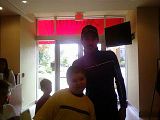 We also met Tom Boonen, national champion of Belgium. He was very kind and friendly, he was very sore as he had crashed badly in the first stage
After we met everyone at the hotel, we ran over to where we had heard Team Radio Shack would be.We wanted to see Chris Horner and Popo. Since Floyd Landis had accused Lance of doping that morning, the media crush was insane. We saw Lance and his boss Johan Brunyeel give their media statements and saw our favorite cycling reporter covering the event. We once again met Lance and other team Radio Shack members. I will leave you with a picture of our favorite rider on that team, we love Popo . His name is Yaroslav Popovich, he has ridden alongside Lance for many years and is a really sweet guy.
At the end of the day, Conner and I were happy. God taught Conner a huge lesson, even when you pray for silly things, he hears you and will answer. It might not always be what you want but he does hear you. We felt so blessed and were on a high for days and weeks following.
Luke11:9-10 "So I say to you: Ask and it will be given to you; seek and you will find; knock and the door will be opened to you. 10For everyone who asks receives; he who seeks finds; and to him who knocks, the door will be opened."
Livestrong tee shirt=one pint of blood, Radio Shack tee shirt=20 bucks, making memories with my son=priceless
T family picks for Tour De France winners 2010
Marty- Hincapie, Andy Shleck, Lance Armstrong
Conner- Frank Schleck, Lance Armstrong, Hincapie
Elizabeth forced against her will to pick- Cancellara, Lance Armstrong, Andy Shleck
Julie- Andy Shleck, Frank Schleck, Lance Armstrong
The Tour starts tomorrow 21 days of cycling or as Elizabeth calls it "21 days of agony"